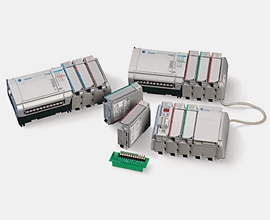 MicroLogix 1500 Controllers
Bulletin 1764 MicroLogix 1500 Controllers are the most expandable members of the MicroLogix family. Building upon the critical features of the MicroLogix 1200 controllers, this controller fits many applications that traditionally called for larger, more expensive controllers. With a processor, base unit with power supply and embedded I/O, this controller packs the best features of a modular system into
a low-cost, small footprint.